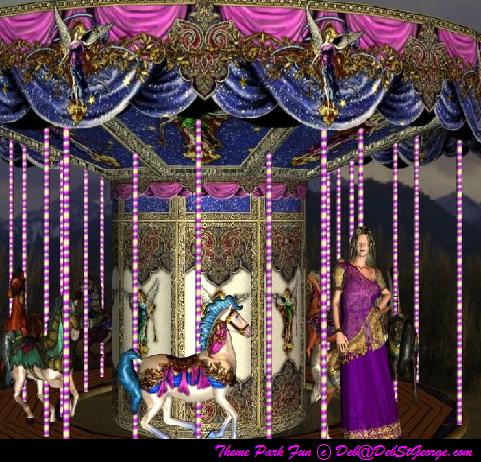 Walt Disney understood the principles of marketing. In 1954
Disney started gaining interest (creating a buzz) for his theme park
by announcing that the Disneyland theme park in Anaheim,
California would be opening in one year. True to his word, on
July 17, 1955 Disneyland was operational. Disney's theme park
was a wonderful success and another theme park "Walt Disney
World Resort" was announced in 1965. It was a sad loss when
in 1966 Walt Disney died, but he had his methodology and
system in place. Walt Disney had wished for his theme parks
to continue to grow and that continued to happen because a
plan had been established and those that followed continued
to follow the plan.
In 1971 Roy O. Disney dedicated The Magic Kingdom on
October 1, and Walt Disney World Resort was opened to
the public. Then again, it was a sad loss when in 1971 Roy
Disney died, but the system and plan continued and in 1982
a second Walt Disney World theme park, EPCOT center
was opened. In 1983 Tokyo Disneyland opened in
Urayasu, Japan, and in 1989 a third theme park,
Disney-MGM Studios was opened at the Walt Disney
World Resort.
In 1992, Euro Disneyland (Disneyland Paris) opened in
Marne-la-Vallee, France. Again creating a buzz before
opening the new theme park, in 1995 Disney announced that
the Disney Animal Kingdom, the fourth Walt Disney World
theme park would be opening, and true to Disney's wish that
his theme park system would never end, in 1997 Disney
announced Disney's California Adventure and Downtown
Disney at the Disneyland Resort. In 1998, more buzz was
created when a five-year plan to open a new theme park at
each of its resorts across the globe. On April 22, Disney's
Animal Kingdom was opened and on July 8, Disney Magic
was opened. In 1999, a buzz was created when a theme
park in Hong Kong was announced to the public. On
August 15, 1999 the Disney Wonder cruise ship was operational.
In 2001 Disney's California Adventure and Downtown Disney was
opened at Disneyland Resort, and Tokyo Disney Sea was opened at the Tokyo Disney Resort. In 2002 Walt Disney Studios Paris opened as the second theme park in France (now called Disneyland Resort Paris). On September 12, 2005, Hong Kong Disneyland Resort opens on Hong
Kong's Lantau Island and Disneyland celebrates its 50th anniversary.
In 2006, Disney is creating a buzz with a new marketing
campaign called, "Where dreams come true." On October 1, 2006
theme park cast members will select guests to win prizes in a "
Year of a Million Dreams" celebration.
Disney didn't have to ask the question, "Are we having fun yet?"
His theme parks are fun. Disney's magic was that he imagined
and created a system and methodology that enabled his business
to continue to grow even after his death.
" If you can dream it you can do it." --- Walt Disney
Click here to see Disney's website.